Book your stay in Fort Conan Hotel
Colclough Walled Garden, Tintern Abbey
Website | Tintern Abbey, Co. Wexford | Tel: 083 3064159 | Email: colcloughwalledgarden@gmail.com
This Georgian Walled Garden was built by the Colclough (pronounced Coke-lee) family over 200 years ago, before 1814. Restoration work by volunteers, organised by Hook Tourism, began in July 2010, after a five-year licence was signed with the garden's owners Coillte Teoranta. It is situated in a verdant vale with beautiful wooded scenery filled with songbirds. Visitors pass through the quondam village of Tintern along the woodland path where bluebells and wild garlic abound in springtime. In summer beech trees cast a dappled shade until the open blue sky of the Walled Garden is reached, where Colclough eagles still fly.
A Sense of History
Tintern Abbey was founded by Cistercian monks after 1200, under the patronage of William Marshall, on a small river that flows into Bannow Bay. 
Planning a trip to Colclough Walled Gardens? Fort Conan Hotel is just 6 miles from this beautiful restored garden.
A Wonderful Day Out 
People from all over the world have visited Colclough Walled Garden. Read the reviews on TripAdvisor.
Ireland's Ancient East
What To See and Do in Ireland's Ancient East
Ballyhack Castle
Ballyhack Castle is located on a steep slope in a commanding position overlooking Waterford estuary. The castle is thought to have been built c. 1450 by the Knights Hospitallers of St. John.
Hook Head
Hook Head is home to Europe's oldest operating lighthouse. The lighthouse is situated on the tip of the Hook Peninsula, just 9 miles from the Fort Conan Hotel.
Secret Valley Wildlife Park
The park has a great range of animals such as monkeys, raccoons, lemurs, rabbits, goats, donkeys, horses, alpacas, llamas, guinea pigs, prairie dogs, skunks and more.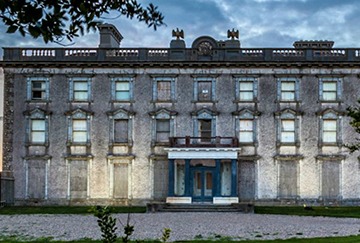 Loftus Hall
Legend has it that during a storm at sea, a dark stranger said to be the Devil visited Loftus Hall on horseback after his ship was driven into nearby harbour during rough seas.
Dunbrody Famine Ship
Centred on an authentic reproduction of a 1840's Emigrant Vessel, the Dunbrody Visitor Centre also houses world-class themed exhibits, and the Irish America Hall of Fame.
Duncannon Fort
The fort is one of only three bastioned forts built in County Wexford and the only one which is accessible to the public. Guided tours are available June, July and August.
The John F Kennedy Arboretum
Dedicated to the memory of John Fitzgerald Kennedy, President of the United States from 1960 to 1963, the Arboretum is a plant collection of international standing.
Colclough Walled Garden
Colclough Walled Garden is a beautiful restored garden situated on the grounds of Tintern Abbey. The original garden dates from pre-1820.
Passage East Car Ferry
The Passage East Ferry Company Ltd operates a continuous Car Ferry Service across the River Suir linking the villages of Ballyhack in Wexford and Passage East in Waterford.
Irish National Heritage Park
The park is an open-air museum which recreates the key stages in Ireland's cultural evolution. Irish National Heritage Park is located near Wexford town, County Wexford.
Kennedy Homestead
The Kennedy Homestead Visitor Centre celebrates the story of five generations of the Kennedy dynasty, the most famous Irish-American family to leave Ireland during the Irish famine.
Our guests love Fort Conan Hotel
"Had the pleasure of staying in this fabulous hotel with my husband on a few occasions. From the comfort of the bed to the warmth and thorough cleanliness of the room and a great shower we could not have asked for more. The Irish breakfast plus bowl of fruit were of highest standard. The owners were most welcoming and helpful. Within three min walk to the beach I would highly recommend this hotel for a mini break."

★★★★★
"As impromptu walk-in quests we did not have high expectations but Richard and the staff of Fort Conan Hotel went above and beyond to surpass any preconceived notions one could have from not having made a reservation. The hotel has a homely comfortable feel and our room had a balcony and a spectacular view of the bay. We were made to feel very comfortable and enjoyed the full Irish breakfast in the morning. We will definitely go back to this hotel the next time we visit Duncannon, but will book the room in advance next time! The hospitality and friendliness of the people here is really amazing. The hotel is within walking distance of some great restaurants and the beachfront. The views here are amazing."

★★★★★
"Very pleasant stay the couple that run it are so nice to everybody nothing is too much to ask of them food is very good too lovely breakfast and plenty of it very good value for me and my family for the weekend"

★★★★★
"I stayed here back in April, and just loved the place, it is everything you would look for in a hotel. It is clean and tidy family run hotel and Helene the owner is just a lady ,she would give up part of her day just to help you with something. She is very welcoming, friendly and helpful in every way as is all her staff. It is a great location in a seaside village on the Wexford coast. The food is excellent with good portions and a great menu.
I would highly recommend a stay in this Hotel."

★★★★★
"Absolute gem of a place. Spent the day kayaking with shielbaggan outdoor pursuits. Owners were very welcoming, a home away from home. The entire hotel and rooms were spotless, great nights sleep and a fab breakfast in the morning. Owners went above and beyond for our group."

★★★★★
"This was a lovely little mom and pop hotel that I loved. Close to the water. The town was cute and the rooms were clean. Nothing fancy just a great place to stay the night. The hotel has a restaurant and the food was good."

★★★★★
"I had an absolutely fabulous nights stay with Richard and Helena at the Fort Conan; gorgeous comfortable room, delicious breakfast and such warm and genuine hosts and other staff. They were willing to go above and beyond for me even down to the random request of a torch when I arrived because I was headed down to Loftus Hall for the night and forgot to bring one! The breakfast was to die for and the other lady serving (I didn't get her name) with Helena ensured I knew I could get a top up of hot milk in my hot chocolate if I felt the need.
Could not have gone wrong staying here and I nearly wish I'd been staying longer. I'll be back without a doubt, thank you guys for a lovely night!"

★★★★★
"Had the pleasure of staying in this fabulous hotel with my husband on a few occasions. From the comfort of the bed to the warmth and thorough cleanliness of the room and a great shower we could not have asked for more. The Irish breakfast plus bowl of fruit were of highest standard. The owners were most welcoming and helpful. Within three min walk to the beach I would highly recommend this hotel for a mini break"

★★★★★
"Absolute gem of a place. Spent the day kayaking with Shielbaggan outdoor pursuits. Owners were very welcoming, a home away from home. The entire hotel and rooms were spotless, great nights sleep and a fab breakfast in the morning. Owners went above and beyond for our group."

★★★★★
"Elaine and Richard were very welcoming, warm and most genuine people we have ever met. Their attention to detail, care and desire to help made us feel at home straight away! We came as a big family and felt wanted and cared for. The service , the attitude and the breakfast were exceptional! We will surely be back again! Thank you for being so hospitable, attentive, sensitive and hard working!
From Luba and Kieran in Ireland, County Kildare"

★★★★★